What is Laminate Flooring?
In contrast to natural flooring materials such as wood, stone, and cork, laminate flooring is an artificial substance.
Laminate flooring is a multi-layer flooring material manufactured from wood fibres that is intended to replicate the appearance of natural wood as closely as possible.
Laminate Flooring Has Four Primary Layers
It is composed of four primary layers that were crushed in a single operation at extremely high temperatures and pressures.
Top Layer
On top is a quality ornamental layer with a printed image that allows for a range of intricate designs and gorgeous colours and patterns.
Core Layer
The core board is composed of high-density fibreboard, which is comprised of more than 80 percent wood, to provide great structural strength and high resistance.
Bottom Layer
The bottom layer of our laminate protects the core board from moisture and ensures dimensional stability.
Protective Surface
An innovative transparent surface protector that lies atop the surface to safeguard it from daily wear and tear.
It is purposefully built to be both sturdy and inexpensive. Because of the décor layer (a printed picture), it can mimic the appearance of more expensive flooring materials such as wood, tile, and stone.
Is Laminate Flooring Durable?
Laminate flooring is quite resilient. The high-density core board provides great impact protection and resists denting from heavy furniture.
The top layer protects the surface from scratching and fading, making laminate ideal for high-traffic areas such as living rooms, private houses, and apartments with pets.
Laminate flooring is excellent for heavy domestic use, particularly in the kitchen, where flooring must resist the rigours of daily living.
Our Laminate flooring is stain-resistant due to its hard, sealed surface, so spills and drips, food stains, heat and dropped utensils, as well as frequent foot activity, are not an issue.
What Are the Pros and Cons of Laminate Flooring?
Pros
Affordable: Laminate flooring is the best, economical alternative to hardwood floors, providing an exact reproduction of wood material.
Durable: The laminate's protective surface is very hard and keeps the surface from getting scuffed, scratched, stained, or faded.
Easy to clean and maintain: Our laminate flooring has a firm, sealed surface with a stain-resistant coating, making it very simple to clean.
The tight locking method prevents dirt and dust from accumulating between the boards. The dirt-repellent melamine resin surface is an effective barrier against the growth or transmission of germs, helping to create a better living environment in every room of the house.
Easy to install: Our laminate flooring features an innovative, user-friendly locking system that makes installation simple and quick. Choose the installation technique that works best for you: board-by-board, row-by-row, or tapping.
Saves time: Installing our laminate floors does not require glue, multiple people can work concurrently, and floors can be used immediately following floating installation. This installation method is efficient and cost-effective due to its simplicity and speed.
Excellent surface stability: As a result of their resistance to water, laminate floors swell less. Consequently, they are useful in kitchens.
Due to the tighter fit of the joints, the planks are extremely well-jointed, resulting in superior surface stability. The height difference is diminished, resulting in an attractive, even surface.
Cons
Cannot be refinished: Laminate is significantly thinner than wood, and once the top layer has been damaged or worn, it cannot be sanded down and refinished like wood flooring.
Prone to water damage: Under the resin-coated top layer, laminate flooring have a layer of wood-chip composite that is susceptible to water damage. This necessitates the protection of your laminate flooring against any water damage.
Not 100% waterproof: Spills should be cleaned up immediately. To prevent water from infiltrating the surface, it is also vital to maintain the integrity of the top layer. The top layer of a floor can be prematurely deteriorated by standing water, incorrect cleaning with scouring machines or cleaning agents, and extreme impacts.
Difficult to repair: If one plank surface is broken, it may be restored with a specific toolset, but if the plank is severely damaged, the entire laminate floor must be removed and replaced.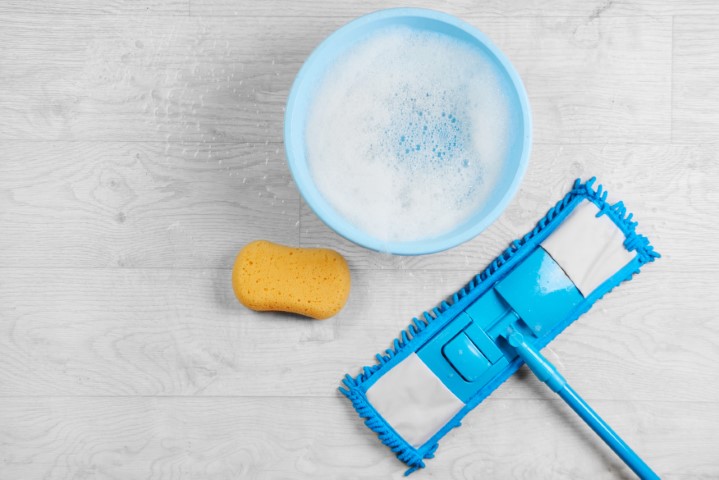 How to Maintain Laminate Flooring?
Laminate flooring requires minimal upkeep. Regular application of these methods can help maintain your floor looking as wonderful as the day it was installed.
Wipe the floor; with a damp mop or a towel moistened with warm water and a neutral detergent at least once each week.
Remove dust; using a broom or vacuum cleaner as needed to prevent dust and filth buildup.
Water puddle; should not be left on the floor for too long.
Refrain from using abrasive; scouring methods or cleaning products, since these might erode the floor's finish.
Padding and soft castors: To prevent scuffs and dents, place padding and soft castors beneath table legs and chair legs.
Comparing Laminate and Vinyl Flooring
Laminate Flooring
Below the translucent wear layer, all laminate floors employ a high-definition photographic layer to produce the appearance of real wood or stone.
The most notable element of laminate flooring is its appearance. Laminate flooring is available in nearly every colour, species, and style of natural wood and stone flooring, including hand-scraped, rustic, reclaimed wood, multi-tonal, natural finish, whitewashed, and multi-length.
Whereas,
Vinyl Flooring
Under the transparent, hard wear layer of high-quality vinyl planks and tiles is a picture or photograph. This picture typically depicts a wood species (such as oak, maple, or hickory) or, less frequently, stone.
However, not every vinyl flooring has this lifelike appearance. Sheet and tile vinyl flooring that is older and less expensive is printed using a rotogravure technique (similar to a cylinder printing machine) and coated with a transparent wear layer.
Key Differences
Since laminate flooring is partially composed of wood fibres, it is less water resistant than vinyl flooring. As a result, it is not suggested for moist bathrooms or laundry rooms. It expands under damp circumstances, causing the edges to curl upwards when pressed together.
However, vinyl flooring is extremely water-resistant and can better withstand moisture, spills, and humidity than laminates.