Why Go for Floor Tiles?
In terms of functionality, style, and sturdiness, there is no alternative to floor tiles when selecting a suitable flooring material. Floor tiles are difficult to surpass in terms of applicability and value, regardless of the specifications. And if you're still unsure, here are some of the most important advantages of employing floor tiles to help you make the proper choice.
Hard-wearing: Floors endure a considerable amount of foot traffic, spills, and grime, but with tiles, your floors will remain clean and perfect for longer. The exceptional scratch and stain resistance of floor tiles results from their composition of durable materials, such as ceramic or porcelain. This indicates that they are well-equipped to resist everyday use and impacts.
Sustainable: With any home improvement, you want to be certain that it will last. Unlike alternatives such as carpet or linoleum, floor tiles will not need to be replaced within a few years due to their composition of extremely durable natural materials. They offer a durable, eco-friendly flooring option for home renovations. 
This results in less trash in landfills and less money spent on regular replacements, which is fantastic for your pocketbook and the environment.
Waterproof: Particularly crucial in bathrooms and kitchens, where water is daily, floor tiles' resilience to water is unparalleled. Their superior impermeable qualities prevent water from penetrating the tiles, ensuring that floors are always fully protected from moisture.
Low-maintenance: One of the best features of tiled floors requires minimal care – simply a routine sweep and clean. Whether it's muddy footprints, spills, or sticky handprints, a simple wipe with water and a mild cleaning will restore the luster of the floor tiles. Some natural stone floor tiles may require frequent sealing, although this is an easy task.
Practical: With various finishes and hues, floor tiles are a highly practical alternative for low-maintenance floors. For instance, using a matt, dark shade, or patterned finish, you can disguise a myriad of blemishes and smudges that may be obvious with very light shades or tiles with a polished finish. This feature makes them a more practical choice for flooring in high-traffic areas of the home, such as the kitchen and bathroom.
Design options: As flooring experts, we recognise that everyone perceives the possibilities of a space through a distinct lens. Therefore, regardless of your particular interior design preferences, there are countless choices for creating your dream look with floor tiles, whether you choose country-style kitchens, minimalist bathrooms, or lavish living spaces. 
With so many different colours, shapes, sizes, and finishes, you can easily create any desired aesthetic in any room of your home.
Added safety: Despite your best efforts to keep surface water to a minimum in busy households, accidents occur, increasing the risk of slips and falls. However, this should not be a problem, as many of our floor tiles feature an anti-slip surface to reduce the likelihood of accidents.
Whether you're considering bathroom floor tiles or kitchen floor tiles, their adaptability and durability make them the ideal flooring solution for any area in the house; all you have to do is choose the tile that best suits your needs.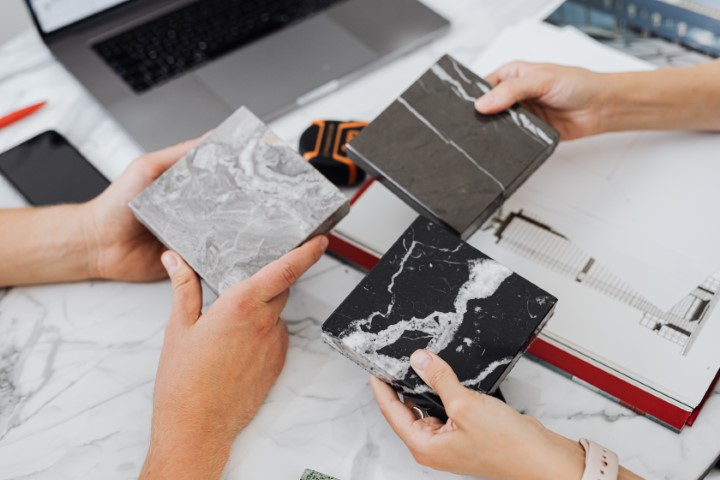 Types of Floor Tiles: Materials and Finishes
In addition to several forms, sizes, and styles, floor tiles are also available in various materials and finishes.
Easy flooring carries an extensive selection of ceramic and porcelain floor tiles and selections made from natural stone and other materials. To choose the ideal floor tiles, it is essential to understand the distinctions between each material to determine its suitability for the task at hand.
Ceramic
Ceramic floor tiles are a popular option for homeowners seeking a low-maintenance, durable, and economical flooring material. Ceramic floor tiles, fired at extremely high temperatures and pressures, have exceptional durability, water resistance, and strength, making them an ideal protective layer for floors.
Porcelain
In terms of durability and sturdiness, porcelain floor tiles have a modest advantage due to the finer ceramic and higher firing temperatures used to make them. Their solid, impermeable core provides exceptional resistance to water, abrasion, impact, and frost, making them perfect for high-traffic or outdoor locations exposed to the weather.
Natural Stone
Natural stone, from tumbling travertine to quartz floor tiles, excels in durability, aesthetics, and water resistance. Despite being more expensive than porcelain or ceramic, these qualities still make them a reliable option and wise investment for flooring solutions that can last a lifetime. 
However, certain varieties of stone may have additional upkeep to be adequately sealed against moisture and soil.
Stone Effect
Genuine stone effect tiles provide all the beauty and authenticity of natural stone in the shape of a modern tile at a reasonable price and with less effort. From marble and granite to slate, numerous styles resemble actual stone available.
Wood Effect
Want the appearance of hardwood floors without maintenance and upkeep? Our selection of wood-effect floor tiles features ultra-realistic designs that imitate the look and feel of genuine wood while preserving maximum durability and easy maintenance. 
With several colours, wood treatments, and sizes to choose from, you may achieve a variety of home design styles, ranging from classic vintage to contemporary chic.
Non-slip
Ideal for most parts of the home, non-slip tiles has a more textured surface that provides better footing. From exquisite terrazzo floor tiles to artistic anti-slip floor tile designs, safety-consciousness does not have to mean sacrificing elegance.
Matt
Utilise floor tiles with a matt finish to portray a sleek and modern aesthetic. With a duller, flatter surface, these floor tiles reflect less light and can reduce the visibility of ordinary scuffs, making them ideal for high-traffic areas.
Polished
Ideally suited for upscale homes, polished tiles have a glossy, smooth finish that reflects more light around the room and conveys an opulent, glittery atmosphere. 
However, if you don't have time to sweep and mop your floors every day, neutral tones and patterned designs can conceal crumbs and smudges for less upkeep.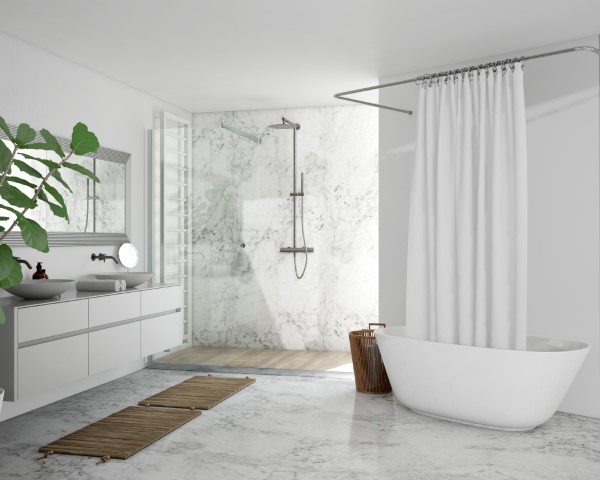 Floor Tile Colours: Mix and Match
If you need to update your flooring but are trying to develop ideas, inspiration may be found anywhere. Borrow ideas from a large pool of interior design trends to create your style, drawing inspiration from timeless aesthetic elements. If you're still struggling for inspiration, here are a few suggestions to get your creative juices flowing.
Tiling advice for tiny spaces: When tiling a small room, always choose large floor tiles to create the illusion of space, rather than emphasising the room's modest size with smaller, more complex patterns. Lighter hues, such as cream or pale grey floor tiles, are preferred in smaller spaces since they provide a brighter and airier atmosphere.
Whether renovating a cosy en-suite or a small guest bedroom, fashionable wood-effect floor tiles, such as the Regio Grey, may offer texture and depth while elongating the room with their long, thin profile.
Palatial pads: On the flip side, smaller tiles or patterned designs can be an especially effective method to bring detail and interest to big rooms. Add accents of coloured or patterned tiles to large flooring to create eye-catching highlights and efficiently divide spaces.
In open-plan kitchen-living spaces, this could take the form of a tiled area inspired by the Victorian era that features beautiful patterns to demarcate specific zones. Alternatively, you could opt for a more modern aesthetic by laying different-coloured Apollo hexagonal floor tiles to create a unique pattern covering vast areas.
Practical: If safety and practicality are your main priorities, you won't struggle to discover a tiling solution that is both smart and stylish. Non-slip floor tiles intended to withstand the test of time are available in various sizes and styles, so you won't have to pick between safety and elegance.
Who says that being health and safety conscious necessitates sacrificing style? Soft and attractive terrazzo floor tiles, as well as decorative anti-slip tile designs, are available. Certainly not us, as there are numerous solutions accessible for selecting anti-slip tiles for your residence.
Morrocan aesthetic: Thanks to our extensive collection of patterned ceramic floor tiles, incorporating a Moroccan aesthetic into your interior design has never been easier. These popular titles are distinguished by their opulent hues, intricate patterns, and geometric designs, which are inspired by the hues of the desert to create an eye-catching home. 
Our patterned ceramic floor tiles offer an economical way to infuse any area with an exotic Arabesque aesthetic with possibilities in atmospheric reds, oranges, or yellows.
With the addition of colourful floor tiles in blues, yellows, and oranges, you can give bathrooms, bedrooms, kitchens, and other rooms an all-year-round cheerful atmosphere. Regardless of the weather, a home decorated with Moroccan artefacts and textiles will seem warm and welcoming.
Raw and rustic: There are several lovely, subtle tiles you'll adore if you're looking for a rustic flooring option to complement a home with a country aesthetic. 
Whether you're trying to create a contemporary rural home or a Scandinavian-inspired interior, the Peronda collection's nature-inspired tile designs in various rustic, muted tones will be the ideal choice.
Tiling Work for Residential and Commercial
Easy Flooring offers professional tiling installation for both residential and commercial properties.
We work on both small and major jobs in HDBs, condos, and other types of properties, installing and repairing new tiling as needed.
The tiling services offered by Easy Flooring are of the highest caliber, and they include direct wall and floor tiling and any waterproofing required for the bathroom or balcony tiling. Common repairs include tile replacement and corrective work.
All of our tiling projects are completed in compliance with BCA standards to ensure customer satisfaction.
Direct Tiling Contractors
Save on interior designer expenses and work directly with our team of highly-skilled tilers for all tiling projects.
Our hardworking crew of tilers is proficient in all aspects of the trade and ready to take on any tiling project, whether it be for a residential or commercial space.
We recognize that layout, homogeneity, and surface application necessitate rigorous attention to detail in order to preserve their visual excellence.